How to screed a terrace
by Staenis | 16/04/2021
How to create a terrace
Planning to build a terrace, so that you can enjoy the outdoors and your garden even more? Then you may have some questions. Which screed is best to use for a terrace? What is the minimum thickness of a screed for a terrace? How do you make screed for your terrace? Read our advice for screeding a terrace and achieve a professional result that will remain beautiful for ten years or more.
Create your own terrace: avoid moisture problems and cracks
The most common mistake when building a patio? Traditional screed or stabilised sand is often used when screeding a terrace. The construction of the terrace usually looks like this: open ground with a stabilised sand bed and tiles that are glued or placed in the mortar. But with this terrace construction, you run a high risk of damage: loose tiles and joints, a crumbling cement subfloor or unsightly efflorescence. This type of damage always has the same cause: moisture problems. Fortunately, you can easily prevent moisture problems on your terrace. With this floor construction you avoid moisture problems on your terrace and you also obtain a tension-free terrace floor. In addition, a slope of at least 1.5 cm per metre is necessary to achieve good drainage. Make sure this slope runs away from the home. Watch the video and learn how to build your own water-permeable terrace.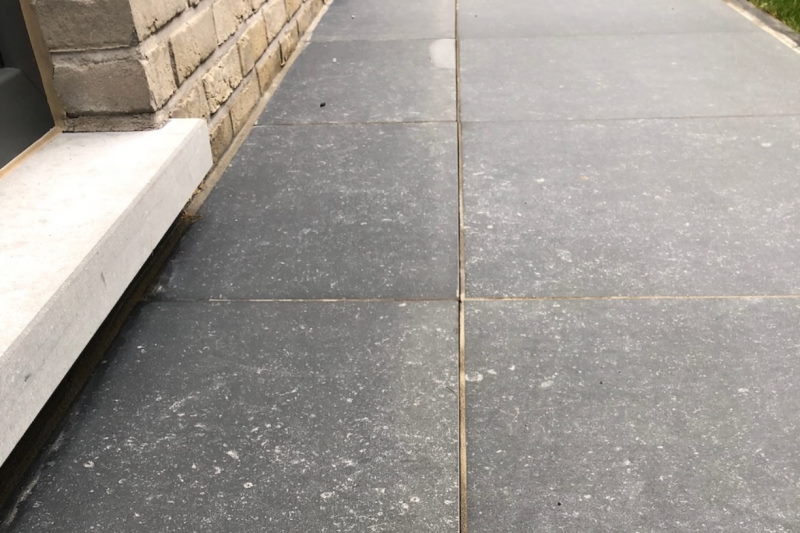 Discover a permeable alternative to traditional screed
With a traditional terrace construction with screed or a stabilised sand bed, water will seep between the joints and along the edges of the terrace. This water is absorbed into the stabilised sand bed, which is usually not sufficiently permeable. As a result, the sand bed, in combination with rising ground moisture, becomes saturated with water. When it starts to freeze, it causes frost damage. High temperatures also create additional stresses, which can cause further damage. This process is accelerated by pressing water from the surrounding lawn. If you'd prefer a sturdy, water-permeable screed for your terrace, then opt for a floor construction with drainage mortar, because you will benefit from various advantages. The water then always flows away and there is no chance of your terrace floor freezing or expanding. This means that your floor finish (e.g. tiles or natural stone) will last much longer. A sustainable and economical alternative to a traditional terrace with screed or a stabilised sand bed. You can create this unique floor structure using a handy do-it-yourself solution: the Staenis grid. You can use this grid outside on open ground, or as a draining solution on a concrete slab. Interested and would like to create your own terrace? Find out how to do it here.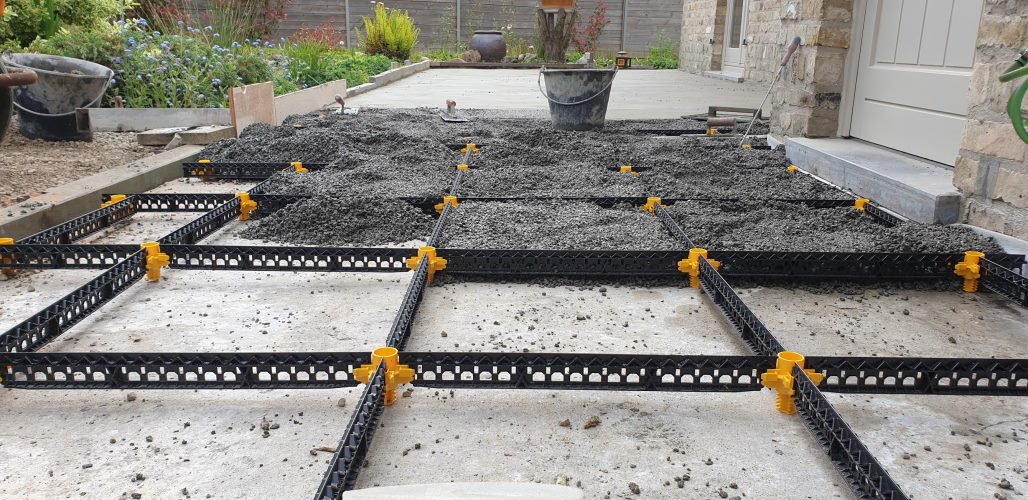 Which screed to use for a terrace?
So you're not gong to build your terrace with traditional screed, but with drainage mortar. Once dried, your screed is completely permeable to water. Drainage mortar consists of gravel (porphyry) stones, cement and water. The mixing ratio of drainage mortar is the following: 5 parts fine gravel (0/2-0/6 mm) to 1 part cement. Please note: the drainage mortar must be finished wet in wet with a thin layer of screed. So you use a screed top layer. This layer of screed should stick to the wet drainage mortar. Due to the layer of screed, all holes at the top of the installed drainage mortar are nicely filled. This makes tiling easier and you need less adhesive. For the layer of screed, use a mixing ratio of 5 parts coarse river sand (0/4-0/7 mm) and 1 part cement, or ready-to-use screed. Discover the ideal floor structure for your terrace here and calculate quickly how much drainage mortar and screed you need for screeding your terrace. Good to know: making large quantities of drainage mortar or screed for your terrace is not necessary, you simply have it delivered ready for use and dry in a drainage mortar silo .
Screeding your terrace with drainage mortar and the Staenis grid: the benefits
Screeding your terrace with traditional screed is asking for cracks and moisture problems. But it doesn't have to be like that. If you lay your terrace with drainage mortar and the Staenis grid you will obtain a solid, level screed and avoid damage. Impressive: a traditional screed with reinforcing mesh or fibres deforms over time and becomes uneven in the corners by up to 5 mm. With the Staenis screed grid, on the other hand, your screed remains nicely flat. This grid divides the screed in such a way that the stresses are reduced significantly. This prevents shrinkage damage and collapse, even in the long term. Also consider the financial advantages: the tension-free substrate in combination with the draining drainage mortar ensures that a drainage mat with a price tag of 25 euros per square metre is not necessary. If you want to screed an area of 50 m², you can easily save around 1250 euros with the Staenis grid. Discover more advantages of a permeable screed for your terrace.

What is the minimum thickness of a screed for a terrace?
A reinforced non-adhesive screed for an outdoor terrace is usually 5 to 8 cm thick. If the screed is non-adhesive, it must have a minimum thickness of 5 cm and be reinforced with a metal mesh of at least 50 x 50 x 2 x 2 mm. Place this reinforcement mesh in the middle third of the thickness. If you place your screed using the Staenis grid, the minimum thickness of your screed is always 5 cm. You can adjust the height of the grid up to 9 cm. If you use extension legs, you can go up to 13 cm in height. You can adjust even higher, but then it is actually better to increase the underlying layers. The Staenis grid also replaces the reinforcement mesh in the screed.
Placing a water-permeable screed for your terrace: step-by-step plan
1 Choose your terrace floor construction with the handy floor construction tool and make the necessary preparations.
2 Are you going to install your screed on open ground? First provide a layer of concrete rubble 10 to 15 cm thick, or thicker if you need to raise more or if your terrace has to be able to take the weight of a car or truck. You then vibrate this layer of concrete rubble, so that there is no chance of the terrace subsiding later on. In addition, this layer is water-permeable. Then place an inclined 5 to 10 cm drainage mortar on the vibrated concrete rubble. Voilà, you now have the ideal surface to place the Staenis grid on!
3 Place the Staenis grid and fill it with drainage mortar. Place the mortar just slightly higher than the top surface of the grid. Lightly press the drainage mortar with your trowel or long screed iron.
4 Drag the excess drainage mortar from the grid with a long screed iron or aluminium rod.
5 Sprinkle screed on the surface and rub with a large sanding board. This fills in any irregularities. Make sure you don't create a pit or mountain in the wheelbarrow and that you always stay flat.
6 Polish the screed with the screed iron. Hold the screed at a slight angle and rub it over the surface.
7 Check and correct each square for flatness to avoid cavities in the grid.
Would you like a complete step-by-step plan tailored to your project? Find the ideal floor structure for your terrace here and view the instructions.
Would you like to create your own terrace? It is possible even you have no experience. With the help of the Staenis grid you are guaranteed to obtain a flat and durable terrace. Find out how to get started here. Curious about the price of screed for outdoor use? Calculate here how much drainage mortar and screed you need and order your supplies easily online< /a>.