Laying a Qualitative Terrace Yourself | information and prices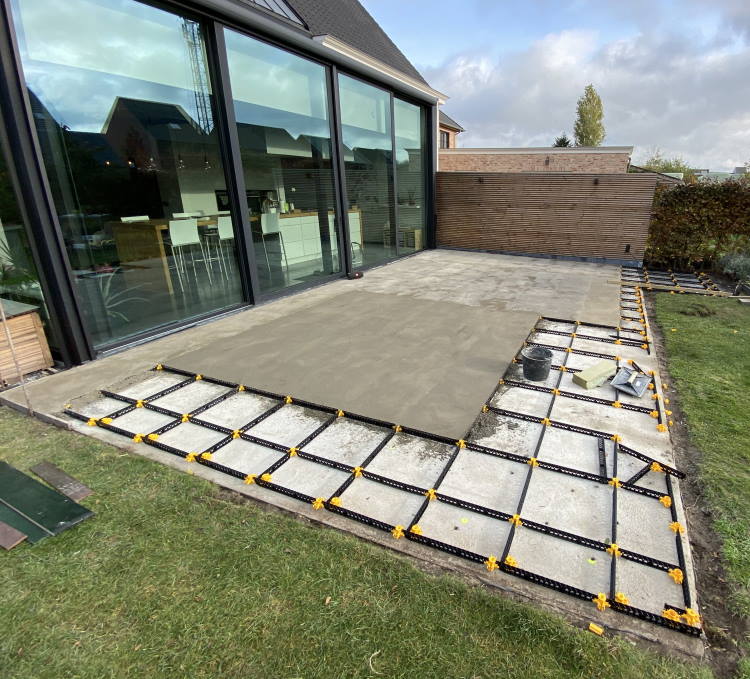 Discover your perfect terrace solution!
Are you planning to build a terrace yourself? Make sure that moisture and temperature fluctuations don't get a chance to shorten the lifespan of your terrace, and opt for a high-quality floor structure.
The Staenis grid, in combination with screed or drainage mortar, is highly recommended for a durable and high-quality terrace. Depending on the situation, a screed may suffice, or a draining screed is necessary. This way you are assured of a terrace that is resistant to moisture, freezing cold and heat.
Some advantages of the Staenis grille:
Easy to place on a slope
Reinforced terrace screed
Use of a screed silo for efficient work
No expansion joints required when working over several days
Suitable for various substrates and finishes
In addition, you save considerably through the combination of drainage mortar and the Staenis grid, which replaces the traditional drainage mat, reinforcement net and decoupling mat + glue.
Finally, the drying time of a drainage mortar screed is only 14 days, compared to 28 days for screed. Choose the Staenis grid and quickly enjoy your beautiful new terrace!
Applications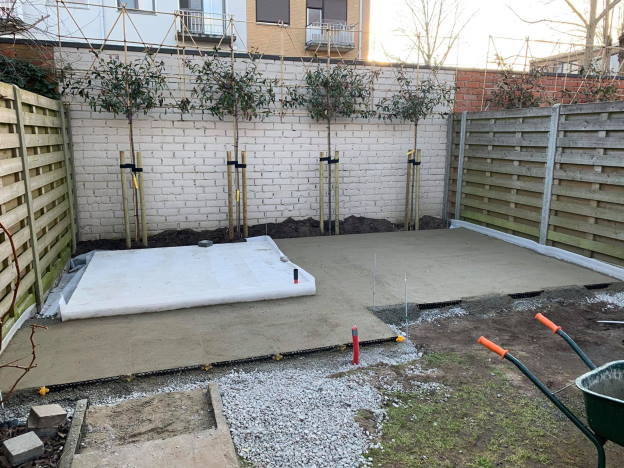 Terrace on the ground: If your surface is permeable to water, you can use screed in the Staenis grid to place your terrace at a perfect slope.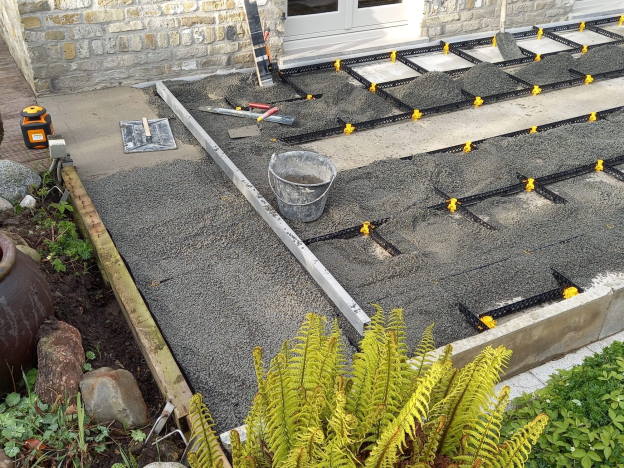 Terrace with concrete slab: Is there already a concrete slab and you don't want to get moisture damage to your tiling? Then you use drainage mortar as a filler in the Staenis grid.
Possible terrace floor constructions
Choose a terrace 1,2,3 & 4 on open ground when the groundwater is low.
Choose a terrace 7,8,9 and 10 with a sloping concrete slab if the groundwater is always high.
Why choose the Staenis grille?
The Staenis slat is an innovative system that provides a stable and well-reinforced terrace screed. Combined with screed or drainage mortar, the Staenis slat offers numerous advantages over traditional terrace constructions:
Easy installation under a slope: The Staenis slat can easily be placed under a slope, which ensures good drainage and prevents water accumulation.
Efficient use of a screed silo: With a screed silo you can make mortar wheelbarrow by wheelbarrow at your own pace, so that you have less waste and only the used tons of mortar are charged.
No expansion joint required when working over several days: This allows you to carry out the work at your own pace without worrying about expansion joints.
Suitable for various surfaces and finishes: The Staenis slat can be used on various surfaces such as solid earth and concrete, and the floor structure can be finished with various types of floor finishes.
Faster drying time for drainage mortar screed: A drainage mortar screed only needs 14 days to dry before tiling, while screed still needs 28 days.
Which materials to use?
The combination of the Staenis grid and drainage mortar replaces traditional materials such as the drainage mat, reinforcing net and decoupling mat + glue. This leads to significant cost savings and an easier installation process.
In some situations a screed is sufficient, but for other situations a draining screed is mandatory. By choosing the right material, you ensure that your terrace is resistant to moisture, freezing cold and heat, and you significantly extend the life of your terrace.
Step-by-step plan for installing a terrace with Staenis grating
Follow these steps to install your terrace with the Staenis grid:
Prepare the surface: Make sure the surface is stable, level and free of debris and obstacles. If necessary, carry out excavation and leveling work to create a suitable base for your deck.
Place the Staenis grid: Place the Staenis grid at the desired height and make sure that the grid is placed under the correct slope for optimum drainage.
Apply screed or drainage mortar: Apply the chosen mortar to the Staenis grid, making sure that the mortar is evenly distributed over the entire surface.
Respect drying time: Allow the mortar to dry sufficiently before proceeding with the following steps. This is 14 days for a drainage mortar screed, and 28 days for screed.
Place floor finish: Choose the desired floor finish, such as tiles, and place it on the dried screed. Make sure that the finish is glued correctly to the underlying construction.
Finishing and maintenance: Finish the edges of your terrace with suitable materials and make sure that your terrace is well maintained to extend its life.
Tips for maintaining your patio
To ensure that your terrace lasts as long as possible, proper maintenance is essential. Here are some maintenance tips:
Clean regularly: Keep your patio free of dirt, leaves and other debris that can lead to moisture and mold problems.
Inspect for damage: Regularly check for cracks, loose tiles or other signs of damage and repair if necessary.
Check joints: Check the joints between the tiles and repair them if necessary to prevent water infiltration.
Use suitable cleaning products: To prevent damage, use cleaning products that are specifically designed for the type of decking of your terrace.
With the Staenis grid and the right materials you can create a durable and high-quality terrace that will last for years. By following the steps in this guide and performing regular maintenance, you will be able to enjoy your beautiful outdoor space to the fullest.
Conclusion
Installing a terrace does not have to be a difficult job. By choosing the Staenis grid and the right materials, such as screed or drainage mortar, you ensure a strong and durable foundation for your terrace. You also save on costs by replacing traditional materials such as drainage mat, reinforcing net and decoupling mat + glue. Follow our maintenance tips to ensure that your terrace remains in top condition for many years and that you can fully enjoy it.
Blogs (manuals)
Placement video
Installing drainage mortar for a terrace
Frequently Asked Questions
Drainage mortar consists of gravel, cement and water. Once dried out, it is completely water permeable. As a result, the water always flows away and there is no chance of your terrace floor freezing or expanding, so that the floor finish lasts much longer.
Drainage mortar: mixing ratio of 5 parts fine gravel (0/2-0/6 mm) + 1 part cement
Screed: mixing ratio of 5 parts coarse river sand (0/4-0/7 mm) + 1 part cement
Drainage mortar consumption per m² at 5 cm thick = 82.5 kg.
Screed consumption per m² at 0.5 cm thick = 10 kg, including compaction.
You can prepare drainage mortar for very small surface areas yourself by purchasing bags of fine gravel and cement (from a building materials wholesaler) and mixing it with a concrete mixer.
You make screed with bags of sand, cement and water or with ready-made bags in a concrete mixer.
As standard, a drying time of 14 days is recommended for a drainage mortar finished with a layer of screed. This is due to the many openings in the screed, allowing the screed to dry out faster. Drying time decreases in warm weather and increases in cold weather.
Fill in the Staenis grid with drainage mortar and place it just slightly higher than the top surface of the grid. Try to lightly press the drainage mortar with your trowel or long screeding iron.
Take a long screeding iron or aluminium rule and scrape all the excess drainage mortar off the grid. This means that it is now at the same height as the top surface of the grid.
Sprinkle some screed with your hand on the surface and rub it with a large sanding board. This will fill in all irregularities. Make sure that you do not create a depression or a mound in the compartment and that you always remain flat.
For extra adhesion and flatness, take back the screeding iron and polish the screed by slightly tilting the screeding iron and scraping it over the surface.
Check and correct each square for flatness to avoid cavities in the grid. This is a very important step that must be followed carefully.
* Only manually press / polish the drainage mortar and screed with a screeding iron and compact with a large sanding board. Do not press it with your feet, this can cause height differences.
Yes, the layer of screed should stick to the wet drainage mortar. This can be compared with an adhesive screed or wet-on-wet installation. In sunny weather you will have to apply screed immediately. In cloudy weather and normal temperatures it is possible to place a full row of drainage mortar, and only then finish with a screed layer.
Due to the layer of screed, all holes at the top of the installed drainage mortar are nicely filled. This makes tiling easier and adhesive consumption is a lot less.
Drainage mortar is only used outdoors. Indoors, it is best to use screed or other fillers.
The thickness or height of your terrace structure depends on various factors. Load-bearing capacity, moisture drainage, rising damp, tensions.
The concrete rubble prevents collapse later and makes the terrace structure load-bearing.
The drainage mortar always removes the moisture, and there is no longer any chance of rising damp.
Due to the Staenis grid, all tensions are removed from the screed, so that tiles no longer experience tensions.
Choose the load class below and see how high you need to build it up.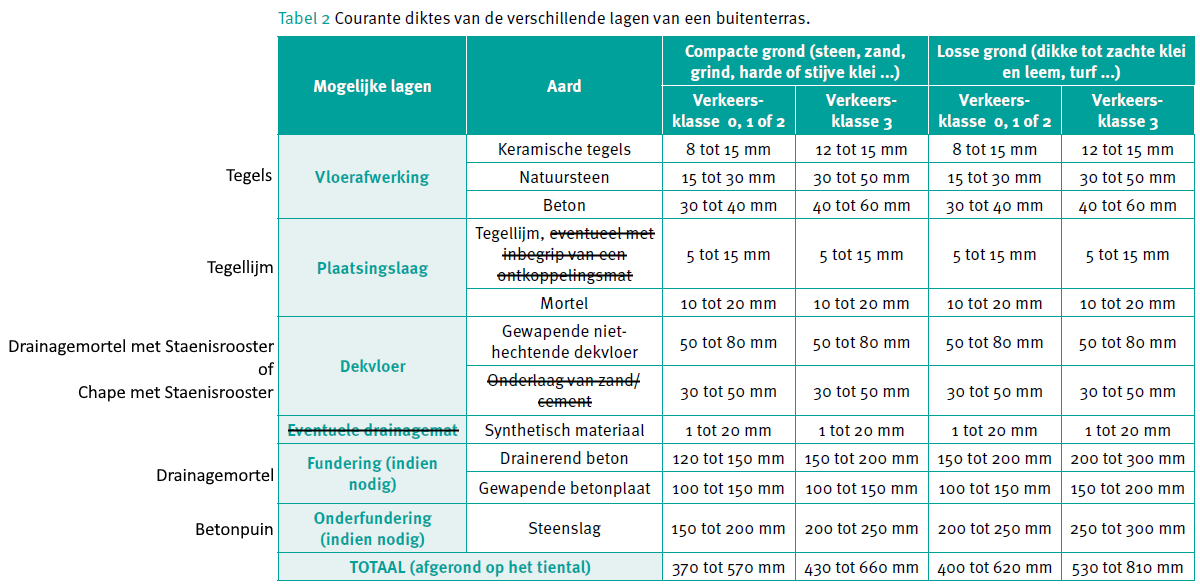 Customer inquiries
Discover how to lay a terrace with Staenis gratings on a surface of stone rubble, leveled with stabil and finished with wpc decking tiles. Learn the right techniques for a sustainable result.
Discover how the Staenis grille can be used for a floating terrace. Learn how to adjust the grille for a deck that widens on one side.