Lay your terrace yourself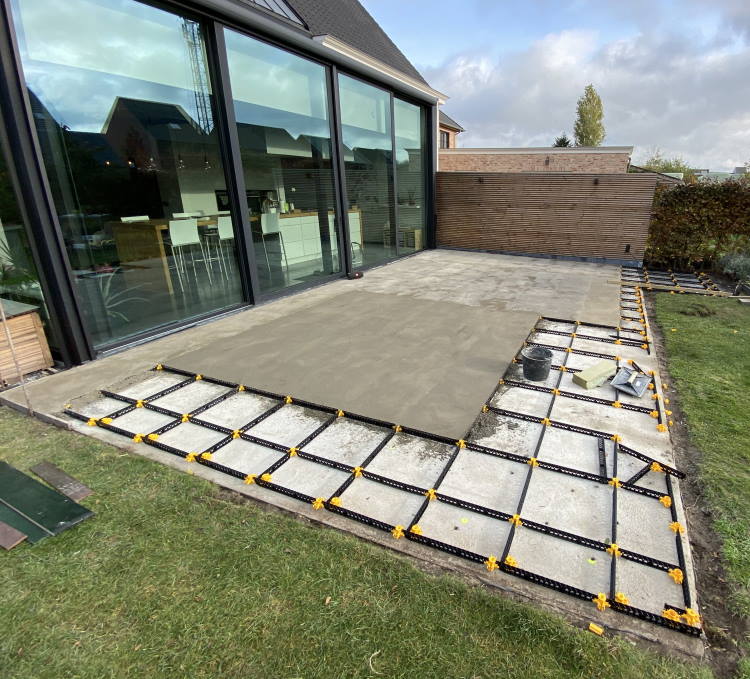 Are you thinking of a new terrace and want to get started on it yourself? Then make sure that moisture and stress do not affect the lifespan of your new terrace and go for a good floor structure.
For a high-quality terrace, we recommend the Staenis grid in combination with drainage mortar. This combination ensures that the tensions disappear and that the screed is permeable to water. This ensures that the terrace will no longer break due to frost, weather that is too hot or the screed silting up.
Drainage mortar consists of gravel (porphyry) stones and cement. Once dried, this very easily drains large amounts of water into a water drain.
Fill in the grid with drainage mortar from a silo. This allows you to make mortar by the barrow and at your own pace and you will have little waste afterwards. This way you can get fresh mortar from the silo for a number of days/weeks. Only the tons of mortar used are charged.
The Staenis grid can easily be placed on a slope and provides a properly reinforced terrace screed.
The works can be spread over several days, without having to place an expansion joint.
Different surfaces (solid earth, concrete, etc.) possible.
Floor construction can be finished with different types of floor finish.
The drainage mortar in combination with the Staenis grid replaces the drainage mat (17 euros/m²), reinforcement net (3 euros/m²) and decoupling mat + glue (25 euros/m²), which means you can make serious savings.
Due to the open structure of a drainage mortar screed, it only needs to dry for 14 days before tiling.
This unique floor structure can only be installed with the Staenis grid.
Blogs (manuals)
Possible terrace floor constructions
Placement video
Installing drainage mortar for a terrace