Terrace with drainage mortar 9
+9 cm - sloping concrete slab - terrace/driveway - with drainage gutter - ceramic tiles, natural stone and clinker bricks

Why the Staenis grid
Tension and moisture are the 2 biggest causes of damage to a terrace. This terrace floor construction with drainage mortar allows the moisture to drain off and is tension-free due to the Staenis grid, so that the tiles and grouting remain in top condition.
Benefits
Achieving a perfect end result without any experience
Replaces a drainage mat = savings of an average of 17 euros/m²
Replaces an uncoupling mat + glue = savings of an average of 20 euros/m²
Replaces the iron reinforcement net = savings of an average of 3 euros/m²
No expansion joints needed in the screed = savings of an average of 3 euros/LM
Floor construction avoids rising damp/capillary effect from the substrate
Water/moisture can quickly drain through the drainage mortar
No chance of the screed silting
Compartment of the screed = crack-free screed
No dishing/cupping of the screed = perfectly flat screed
Very load-bearing surface due to vibrated layers underneath
Spread floor works over several days (no stress during installation)
Very good adhesion to the tiles, by applying a fine layer of screed to the drainage mortar. Ideal for gluing tiles or natural stone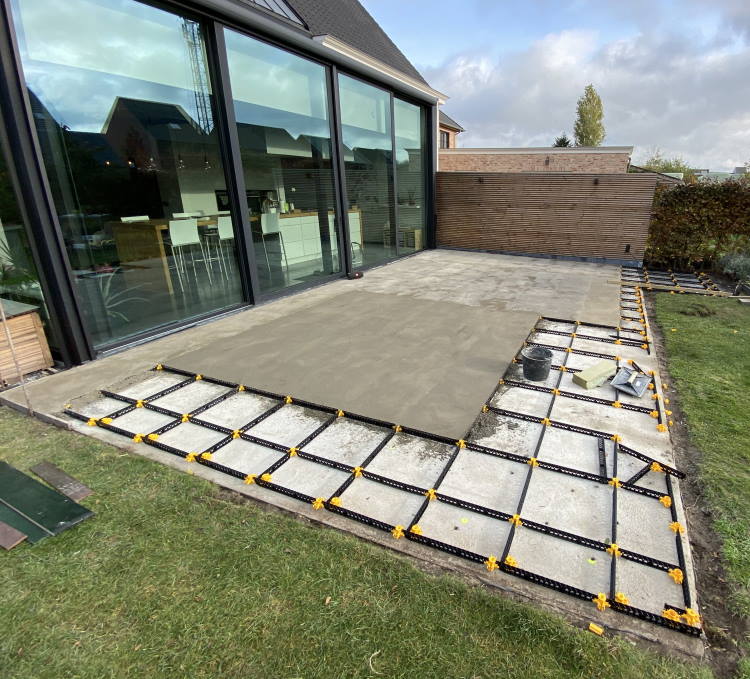 Floor construction manual
Place a sloping filling layer of drainage mortar or screed, leaving about 7 to 8 cm to adjust the height of the grid. This does not have to be reinforced and may start from 1 mm thick. When connecting to the ground, it is best to place a drainage pipe and fill it with 10 to 20 cm of concrete rubble. If necessary, ensure the gutter is placed in stabilised sand.
Place the Staenis grid and determine the correct height of a leg every 3 m with a laser and place a long line on it or use a rope. This way you can easily adjust the height of the intermediate legs with a screwdriver. Provide 1.5 to 2 cm slope per running metre (depending on the roughness/unevenness of the tile surface). Place edge insulation around the screed to allow it to expand and contract.
Start by pouring the drainage mortar on to the legs. In this way the height control of the grid remains correct. Then completely fill in space by space with drainage mortar. Flatten the drainage mortar with a large flat trowel (60 cm length) on the grid. Prepare a small amount of screed and sprinkle it wet in wet as a thin layer on top of the drainage mortar. Polish with a large sanding board. This ensures that the remaining holes are filled and a good bonding strength to the tile is guaranteed.
Side view floor construction
View this floor construction in reality via Sack Zelfbouw
Legend
open ground
Concrete rubble layers vibrated with vibrating plate
Drainage pipe connected to drain
concrete slab
Drainage gutter
Drainage mortar filling layer (fine gravel with cement)
Stainless steel grid (thickness of 7 to 8 cm)
Edge insulation
Drainage mortar (fine grave with cement) + 5 mm screed top layer
Double bonding with S1 flex tile adhesive (S2 not allowed)
Floor tiles
Water-resistant, coloured joint mortar
Silicone

Placement video
Placement of the Staenis grid
Installing drainage mortar terrace
We deliver drainage mortar and screed in a silo to your home (only in Belgium)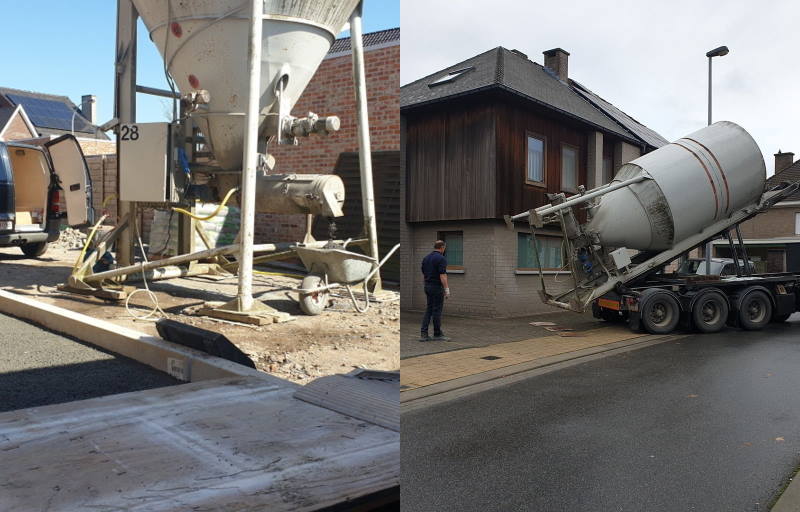 By simply pressing a button on the silo, you can prepare fresh drainage mortar or sand cement screed at a rate of 3 m³/h and this without time pressure to process the large amount of mortar.
There are 2 separate compartments in the silo. 1 part filled with porphyry (2-6mm) or sand (0/4-0/7mm) and the other part filled with dry cement (250kg/m³). These are only mixed with water when you wish.
The big advantage of this is that you can make fresh drainage mortar or sand cement screed at your own pace and for a few weeks.
Special joint sealant for joints with ceramic tiles
Because this joint sealant looks just like a cement joint, the product can also be used as a replacement product for conventional joints.
Field of application when grouting 2 cm thick ceramic terrace tiles with 3 mm joint.
This grout is super flexible and sticks enormously to the side of the tile. Also, the grout does not discolor when moistened, which looks aesthetically pleasing.