Types of floor constructions
The floor structure is an important part of construction or renovation projects and different types are possible, such as screed, insulation screed, dry fillers, drainage mortar and leveling compound. Each type of floor construction is specifically suitable for a specific room and offers various advantages, such as high load-bearing capacity, insulating properties, low height or a sustainable solution.
When choosing the right floor construction, it is important to consider whether the structure of the house is suitable, whether it will have underfloor heating and whether the floor will be placed on floors. Staenis offers floor construction solutions that are easy to install, stress-free and have unique advantages, such as a lighter version or an environmentally friendly dry floor.
- Choose a filler below: screed, (tilable) insulation screed, dry fillers, leveling compound or drainage mortar based on the space.
- And only receive information about your specific floor structure.
Do you have construction or renovation plans and want to get started installing your floor structure yourself? Fantastic, we love that hands-on mentality!
Do you want to renovate the bathroom, or perhaps redecorate the attic space now that the children are getting older? Or maybe it's time for a new terrace?
Does the new floor need to be insulated or acoustically perfect? Is the structure of the house strong enough for a new floor construction? Will there be underfloor heating? Will the floor be placed on the first floor? And which floor finish do you choose?, etc.
As you can see, every floor structure has different properties and everyone has different requirements for their future floor. That is why we are happy to help you!
Toonmodellen
bij Sack Zelfbouw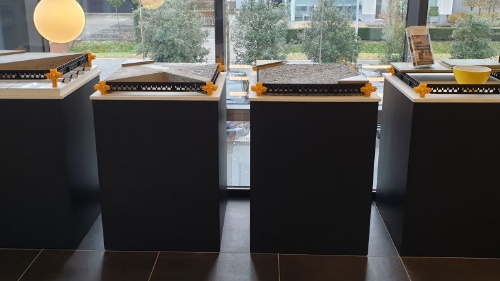 Met Staenis spelen we in op online zichtbaarheid, maar door de samenwerking met Sack Zelfbouw, kunnen we het roostersysteem ook offline tonen via vrije bezoeken aan de toonzalen van Sack Zelfbouw.
Ontdek 4 verschillende vloeropbouw in het echt bij Sack Zelfbouw
Sack Zelfbouw