Lay your dry floor yourself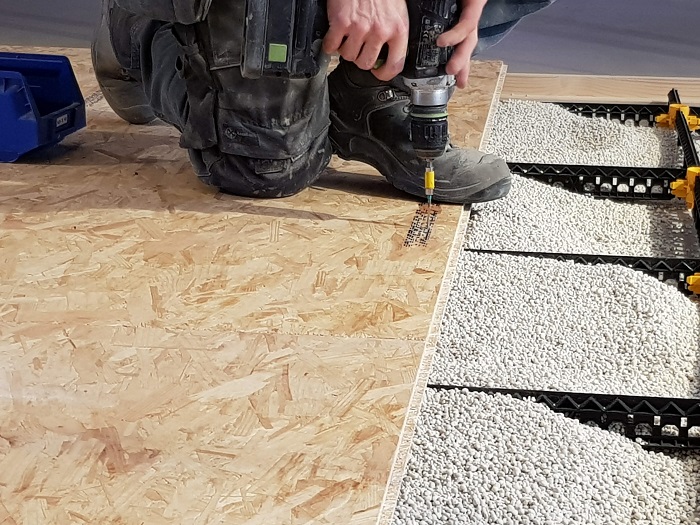 By using dry products in combination with the Staenis grid, you can cover your floor easily and immediately with an OSB (or Durelis) and finish it with a floor covering such as laminate, multilayer parquet,... ensure that your floor construction becomes reusable/circular/environmentally friendly and that you contribute to the climate in this way.
The Staenis grid serves as an easily adjustable wooden grid and is ideal for the attic. You can fill the grid with load-bearing fillers such as recycled cellular concrete granules or non-load-bearing fillers (provided the grid is reinforced) such as rock wool insulation, lime-hemp or without filler .
By combining the Staenis grid with recycled cellular concrete granules and OSB, you save expensive plaster fibre boards (25 euros/m²) and expensive levelling granules (20 euros/50L).
You can screw the OSB or Durelis into the slats of the Staenis grid. Insulating, sound and fire-resistant floor construction, depending on the filler and cladding used.
30 kg fewer CO2 emissions per m² = 10 x fewer CO2 emissions compared to screed
Applications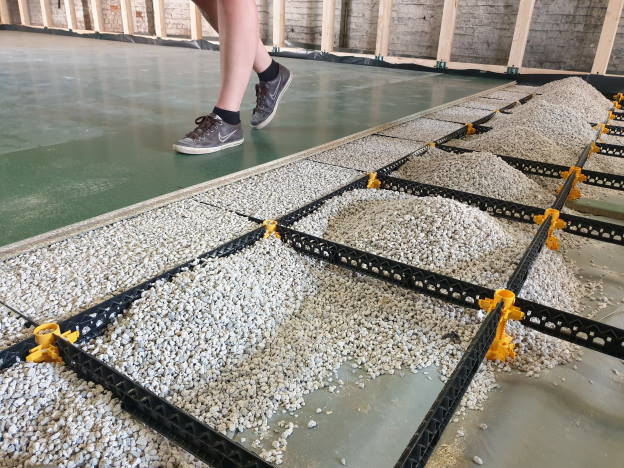 Circular: By using aerated concrete, the dry floor becomes more load-bearing and sounds better acoustically when you walk on it.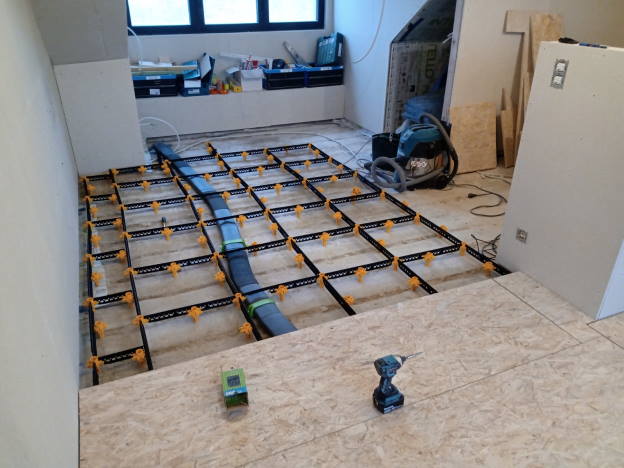 Like wooden structure: In this project, the Staenis grid is used as a wooden grid. Extra legs are placed for extra carrying capacity.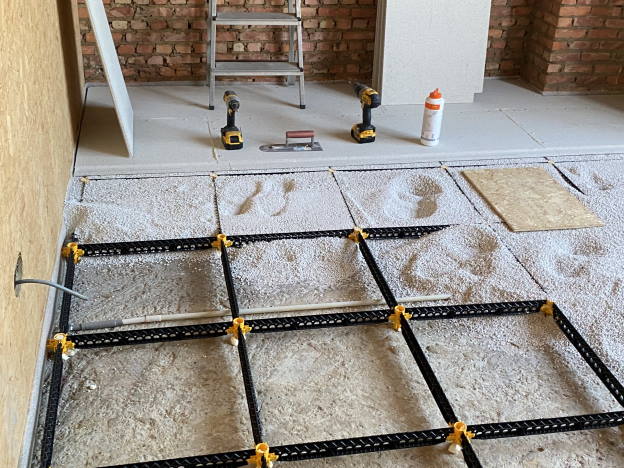 Dry floor: A standard dry floor with leveling granules tends to sag over the years, with the Staenis grid the floor always remains at the correct height.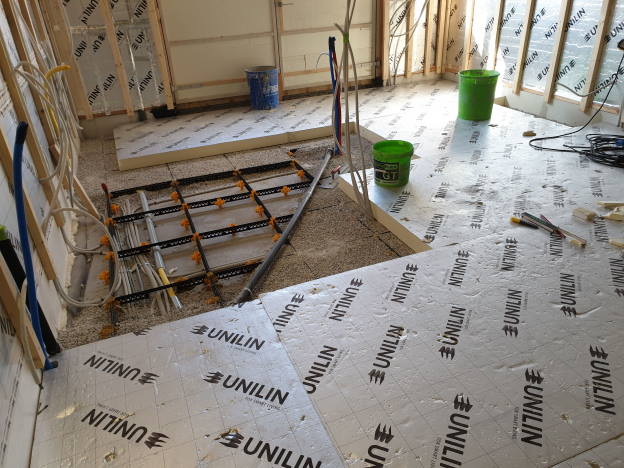 Fill layer: You can also use the Staenis grid in combination with aerated concrete leveling granules as an environmentally friendly filling layer under insulation boards.
Blogs (manuals)
Frequently Asked Questions
Dry fillers are materials that, as the name implies, are dry and not mixed with water when installed.
No time pressure during installation because the filler is drying out = you can work at your own pace
No risk of water seeping into lower floors.
No drying times = flexible planning
Weight: dry fillers are up to 4 times lighter than, for example, a screed.
Floor construction can be completely reused later = no material waste.
If it later turns out to be a problem with, for example, the utilities, the floor structure can be removed and replaced without cutting work.
Thanks to the Staenis grid, it is very easy to place dry fillers flat. Previously, the challenge was to get the grains flat, on which special/expensive floor elements from Fermacell, Gyproc, Knauf, etc. were placed. The Staenis grid provides a frame on which OSB or Durelis wooden plates can be simply attached. So, it's easier, cheaper, stronger and effectively 100% reusable.
With load-bearing dry fillers, you can use a single OSB plate of at least 22 mm. . With non load-bearing dry fillers such as glass wool, you are obliged to place a double OSB in 2 directions. Due to the double plating, it rests completely on the legs and there is almost no force on the flexible battens of the Staenis grid. Screw the first plate 12 mm thick into the Staenis grid. The second plate 18 mm thick is screwed into the first plate afterwards. The screws must be 2 cm longer than the thickness of the wooden plate and be 3.5/4/4.5 mm in diameter.
The reinforcement of the Staenis grid depends on the filler to be used.
When using load-bearing dry fillers, such as levelling or aerated concrete granules, you do not have to reinforce the legs of the Staenis grid or install extra legs.
When using non-load-bearing fillers such as glass wool or cork granules insulation, you should:
8 extra legs per m² to be placed in the installed Staenis grid. This increases the possible load by 100 kg per leg, resulting in a total load capacity of 1300 kg/m².
Reinforce the top of the legs with a cement, lime mortar, ...
Stick all feet to the surface with PU foam, so that the height adjustment remains correct after adjustment.
Yes, that is perfectly possible. The screws must be 2 cm longer than the thickness of the wooden plate, may have a diameter of 3.5/4/4.5 mm and preferably have a self-drilling head.
Yes that is possible. There are 2 solutions for this:
glued tiles: You only need to add a decoupling layer to the floor structure. For example, by placing an uncoupling mat on the wooden plates and tiling on top. This decoupling layer is necessary because wood will 'live' throughout its life through expansion and contraction. This creates a different coefficient of expansion than with tiles, which could cause them to crack and even break.
non-glued tiles: Drytile is a tile that no longer needs to be glued to the substrate. This tile has a cork layer on the underside of the tile that absorbs itself, as it were, on the substrate. Note: a perfectly flat surface is required for this, as it is no longer possible to play with height in the adhesive as you can with glued tiles.
Yes, depending on the type of dry filler used, it has a positive impact on the environment. Dry fillers can consist of natural materials such as shells, lime hemp, pebbles, etc., as well as recycled materials, such as levelling granules. In addition, fillers can also be used from construction waste flows, such as aerated concrete. This encourages the reuse of materials.
A floor structure installed with the Staenis grid and filled with dry fillers provides the opportunity to build a fully reusable floor structure. The grid is filled in with dry, loose fillers that are not given a binding agent and will therefore always remain loose in the grid. These are covered with wooden plates (staggered or not) that are screwed onto the grid. After that, a non-glued floor finish can be placed on it, such as laminate, click cork, non-glued tiles (Drytile). If this floor has to be demolished later, any material can be reused in its original state without creating waste.
Rockwool Rocksono Base is the heavier version of rock wool and will seriously help dampen sound.
For example, if you place the Staenis grid at a height of 6 cm, you can perfectly place 4 cm of rock wool in it. With dry load-bearing fillers, you need to fill in up to the top.
You can place the feet, towards contact noise (to the floor below), on rubber mats of 1 to 2 mm thick.
This can be done with a subfloor (damping cloth). It is best to use a 'golden' version as the underlay for laminate. These are more expensive, but almost completely attenuate the impact of sound in the room itself.
The lambda value λ (W/mK) is the insulation value of a material. The lower the lambda value, the better the material insulates. The lambda values of most bio-ecological insulation materials fluctuate between 0.035 and 0.040 W/mK. Below are some insulation values of some insulation materials.
| Material: Insulating materials from renewable raw materials: | λ value W/mK |
| --- | --- |
| Paper Flakes | 0,035 - 0,040 |
| sheep wool | 0,035 - 0,040 |
| wood fibre | 0,037 - 0,040 |
| Cork | 0,038 - 0,040 |
| Hemp | 0,038 - 0,042 |
| seagrass | 0,039 |
| coconut fibre | 0,040 |
| Cotton | 0,042 |
| Straw | 0,056 |
| shells | 0,106 - 0,155 |
| Material: Insulation materials from mineral raw materials: | λ value W/mK |
| glass wool | 0,031 - 0,044 |
| rockwool | 0,031 - 0,044 |
| Silicate foam granules | 0,040 |
| Cell glass | 0,040 - 0,050 |
| perlite | 0,051 |
| vermiculite | 0,053 |
| Material: Insulation materials from petrochemical raw materials: | λ value W/mK |
| Vacuum insulation panels (VIP) | 0,007 |
| PF (rigid foam resol) | 0,020 - 0,022 |
| PIR | 0,021 - 0,026 |
| PUR | 0,023 - 0,028 |
| XPS | 0,028 - 0,038 |
| EPS | 0,031 - 0,045 |
| Material: Insulation materials from reusable materials: | λ value W/mK |
| Levelling granules | 0,090 |
| Aerated concrete granules | 0,10 - 0,32 |
Source: www.lambda.be