Lay your dry floor yourself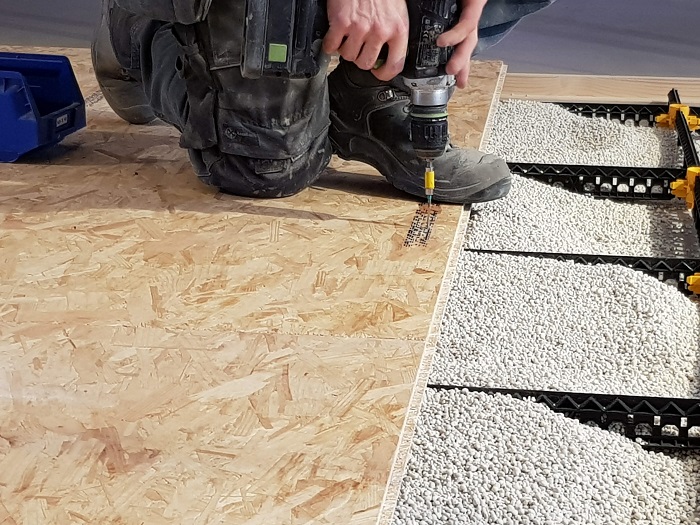 By using dry products in combination with the Staenis grid, I can cover my floor easily and immediately with an OSB (or Durelis) and finish it with a floor covering such as laminate, multilayer parquet, etc. so that my floor construction becomes reusable/circular/environmentally friendly and so that I can help protect the climate.
The Staenis grid serves as an easily adjustable wooden grid and is ideal for the attic. You can fill the grid with load-bearing fillers such as recycled cellular concrete granules or non-load-bearing fillers (provided the grid is reinforced) such as rock wool insulation, lime-hemp or without filler .
By combining the Staenis grid with recycled cellular concrete granules and OSB, you save expensive plaster fibre boards (25 euros/m²) and expensive levelling granules (20 euros/50L).
You can screw the OSB or Durelis into the slats of the Staenis grid. Insulating, sound and fire-resistant floor construction, depending on the filler and cladding used.
30 kg fewer CO² emissions per m² = 10 x fewer CO² emissions compared to screed
Blogs (manuals)