Placing your terrace floor yourself with the Staenis grid on open ground or concrete slab: step-by-step plan
To create a high-quality terrace, you must take into account moisture, tensions, heights, etc. In the step-by-step plan below we explain how to work on full ground, on a concrete slab or both
Prepare substrate
concrete slab
Cleaning the concrete slab.
Check whether the concrete slab has been laid on a slope. This is important so that the water can flow away. If this is not the case, cut channels in the concrete, so that the water can always flow away. It is also possible to first place a sloped shelf (e.g. from 1 to 5 cm thick without reinforcing mesh and with a slope of 1 to 2%) with a waterproofing cloth or sealing paste on top of it.
Check whether you have at least 5 cm of construction height everywhere (height of the Staenis grid).
Open ground, gravel, etc.
Excavate the substrate, so that you are left with 10 to 20 cm height for vibrated concrete rubble, 7 to 8 cm height for the screed or drainage mortar screed and tile adhesive + tile thickness.
Placing drainage pipes that open into the sump or drain.
Now place the curb stones, if desired. Create a base of 5 cm of vibrated concrete rubble and place the curb stones at height and secure with stabilised sand.
Place the 10 to 20 cm concrete rubble in several layers and vibrate it each time. This way you avoid subsidence afterwards. This concrete rubble provides a pressure-resistant surface and must be permeable to water.
If necessary, level with a thin layer of screed, so that you effectively have 7 to 8 cm left everywhere, taking into account the slope of 1 to 2% (1 to 2 cm slope per linear metre).
Concrete slab combined with open ground, gravel, etc.
Carry out the steps above
Drilling and placing chemical anchoring of rebar diameter 14, leaving this every 20 cm and 50 cm on the side of the concrete slab. This way you avoid a fault line afterwards.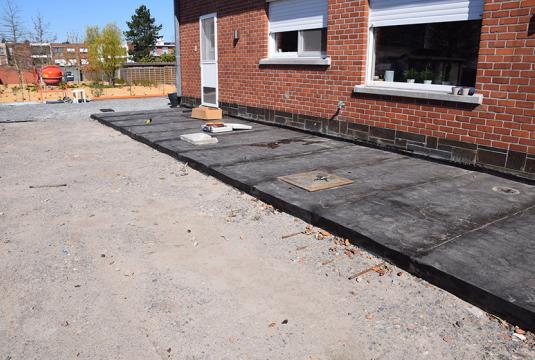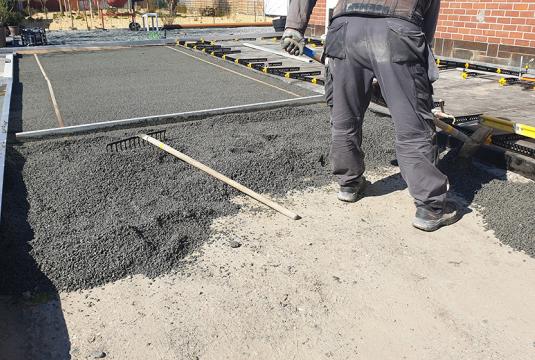 Choose between drainage mortar or screed
Concrete slab/slope shelf with waterproofing
Because a concrete slab does not allow water to pass through and a screed absorbs moisture, you must in this situation replace the screed with a drainage mortar. This consists of porphyry 02/06 stones, mixed with cement and is available by the silo at Staenis.
concrete rubble
With a water-permeable surface, you can choose between screed, available by the silo at Staenis, or drainage mortar to create your screed. The drainage mortar greatly extends the life of the terrace. With drainage mortar you avoid freezing and silting up of the screed.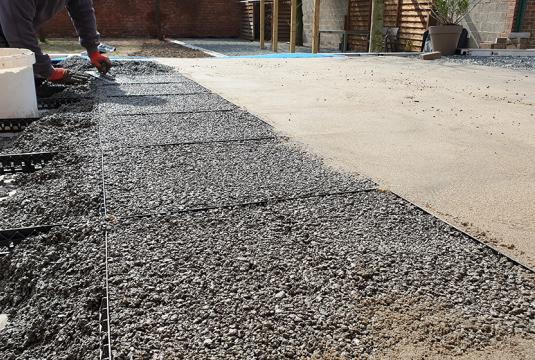 Placing the Staenis grid
Place and adjust the Staenis grid at a height of 7 to 8, on the sloping surface. Determine the correct height of a leg with a laser every 3 m, using a long line or rope. This way you can easily adjust the height of the intermediate legs with a screwdriver. Provide 1.5 to 2 cm slope per linear metre (depending on the roughness of the tile surface).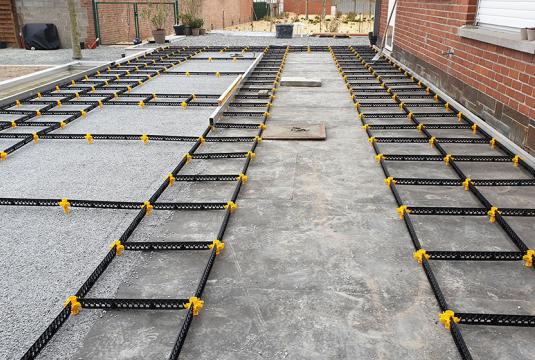 Place edge insulation along the walls and fix with a little screed or drainage mortar. This is a foam tape that will absorb the tensions in the screed.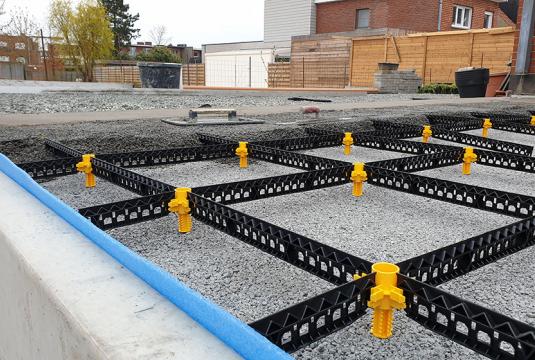 Placement terrace screed
Have a drainage mortar or screed silo supplied. This contains a total of +-20 tons of cement and sand/porphyry dry. You can decide for yourself when you make a barrow full of screed mortar. With a silo you always have the right mixing ratio and the work is a lot less labour-intensive.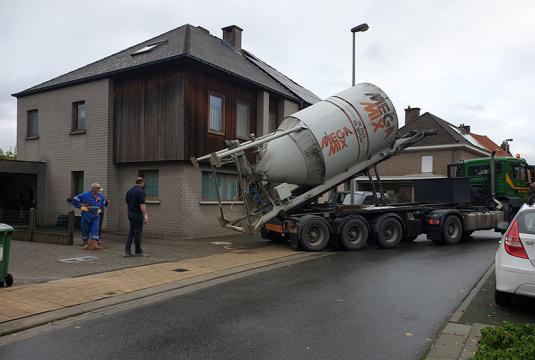 Drainage mortar
Start by pouring the drainage mortar on to the legs. This way, the height adjustment of the grid remains correct. Then completely fill in cubicle per cubicle with drainage mortar.
Scrape the drainage mortar flat with a large screeding iron (60 cm length) on the grid.
Take a bucket of screed, with a ratio of 5 parts washed sand plus 1 part cement (mix well + a little water). Sprinkle this (thin layer of a few mm) over the just placed drainage mortar (wet on wet) and level with a sanding board and large screeding iron until the surface is nice and smooth, the same height as at the top of the grid. This is easily possible by using the installed Staenis grid. This final layer serves as an adhesive layer for subsequent tiling.
Screed
Start by pouring the screed on to the legs. In this way the height adjustment of the grid remains correct. Then completely fill in square per square with screed and press down with a trowel.
Scrape the screed flat with a large screeding iron (60 cm length) on the grid.
Polish with a large sanding board and screeding iron. This ensures that the remaining holes are filled and good bonding strength to the tile is guaranteed.
The grid allows you to stop work whenever you want. You can just finish one compartment completely and the rest is for next time.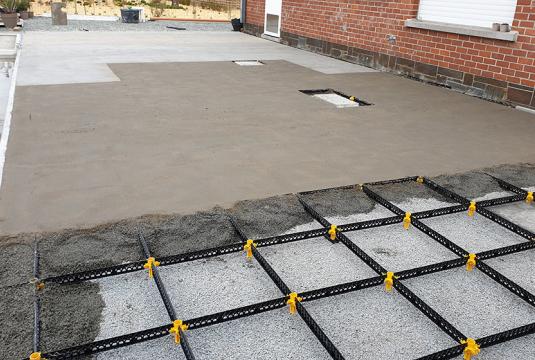 Now that the drainage mortar/screed has been placed, everything is ready for tiling. By placing the Staenis grid, the waiting time to continue working is much shorter (14 days). This grid removes all tensions in the screed and prevents the formation of 'dishing/cupping'. Due to the drainage mortar, there is no longer a need to lay a drainage mat, which saves you money and time.
Placing terrace tiles: if you do not have a laying plan for the tiles to be placed, lay out the necessary rows of tiles yourself in order to cut as few tiles as possible and place them as aesthetically as possible. Tiles are always double-glued with a 15 mm trowel on the screed and pulled flat on the tile to obtain an adhesive thickness of +-5 mm. When laying, also use a levelling system to place the tiles with a thickness of 2 cm and spacers for a joint thickness of 3 - 10 mm. Now let the terrace and the tile adhesive rest and dry out for +- 14 days. This will remove all tensions in the substrate.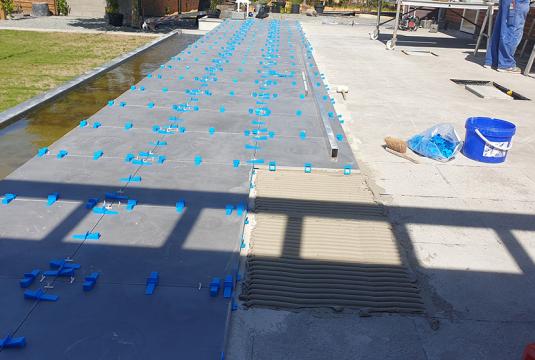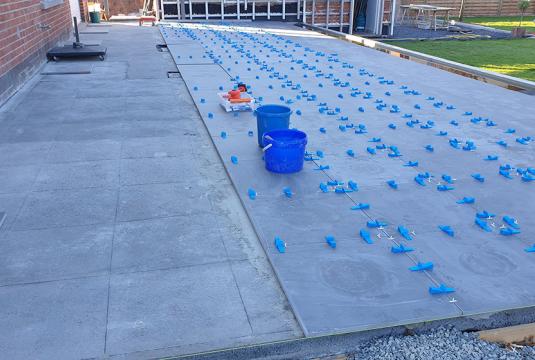 Grout for tiling: this can be done with a mixture of sand and cement, but for today's tiles you should use pre-prepared grout. This improved grout adheres better to the side of the tiles and lasts longer. You make the grout with the correct amount of water and push it manually into the joints. A little later you can wash the joints off with a sponge and sponge tray one by one. Make sure you add as little water as possible, so that the colour pigment is not lost.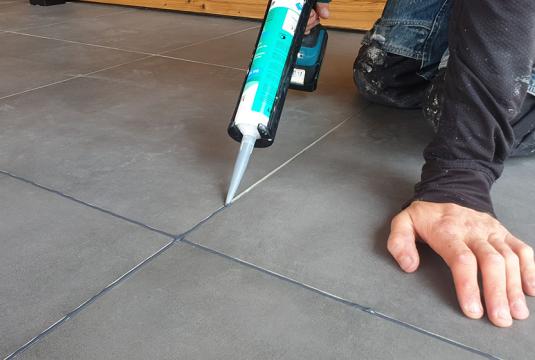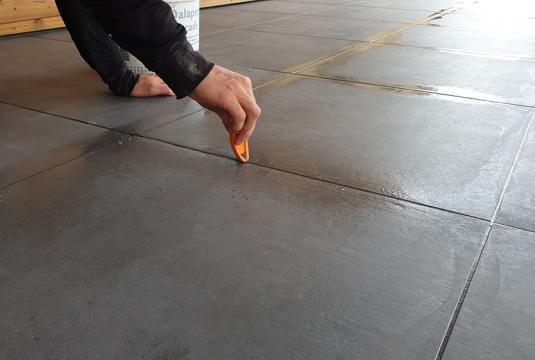 You can also seal all joints or expansion joints with Mortec Soft, which makes the joints flexible and prevents them from discolouring due to the rain. The purchase is more expensive than the traditional way with grout, but you gain twice as much in time and intensive labour. Each tile is surrounded by elastic jointing, so that there are no cracks in the jointing, unlike standard jointing. After 24 hours, everything can be walked on.