Minimum thickness screed underfloor heating
by Staenis | 18/02/2021
What is the minimum thickness of screed on underfloor heating?
Planning to install a floor construction with underfloor heating? Then you must also provide an insulation layer and a suitable screed. After all, underfloor heating is installed in or on an insulation layer. What kind of screed can you use with underfloor heating and how thick should your screed be? Discover the recommended screed thickness for your project and get useful tips.
Why provide a screed?
When installing a floor, you must always provide a screed or floating screeder. This provides a flat surface on which you can lay floor coverings such as tiles, parquet, epoxy and so on. You can also store electricity pipes, heating, ventilation and drainage channels in it to obtain a perfectly even surface, although it is of course better to place these utilities in the filling layer. If you opt for underfloor heating, your screed will lie in or on top of an insulation layer, instead of directly on your load-bearing floor. One speaks of a floating screed, because there is no direct contact between the screed and the supporting floor, walls, skirting boards, sills, etc. Want to save on the costs of your project? Discover a handy solution that allows you as a novice handyman to install your floating screed yourself.
Floating screed, a suitable screed for underfloor heating
Underfloor heating is therefore either installed in or on top of an insulation layer. This insulation layer will be placed between the supporting floor and the screed. Thanks to the insulation, the heat from your underfloor heating cannot escape downwards. What kind of screed will be placed on this insulation layer? In practice, you can combine floor heating with a floating screed. Such a screed must always have a minimum thickness of 5 cm on insulation or above underfloor heating pipes. The recommended thickness of the screed depends on the type of screed, the composition of the mortar and the type of underfloor heating system. We discuss the necessary screed thickness per type of underfloor heating (wet or semi-dry system). Not hired a screeder yet? With this innovative DIY system you can easily install your floating screed yourself.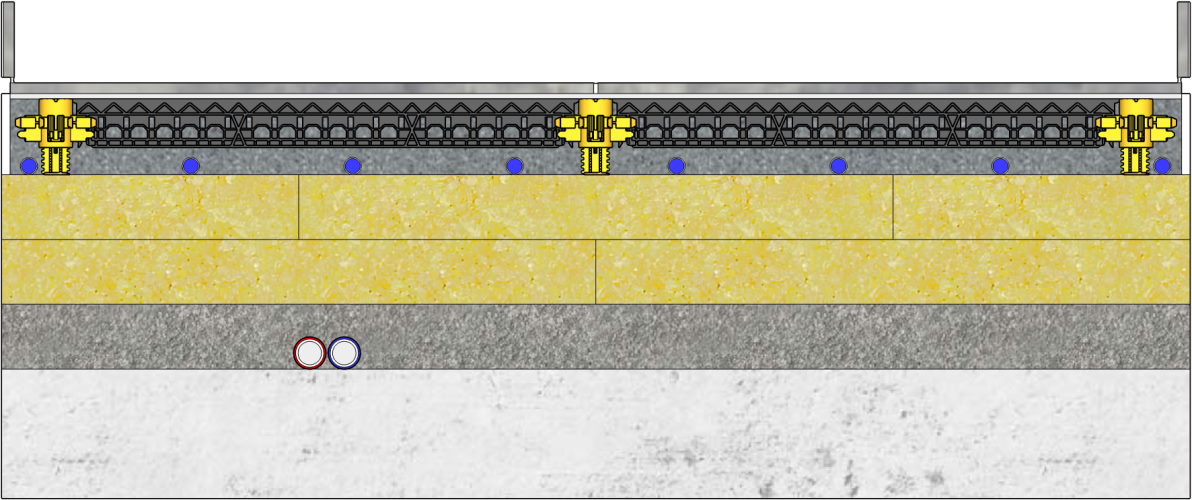 Which type of screed to choose for a floating screed?
If you want a floating screed, you can choose between a traditional cement-bonded screed and an anhydrite flow screed. Cement-bound screed consists of a mixture of sand and cement and is prepared with water. There are different types: adhesive and non-adhesive, floating and inclined screed. Place a floating screed on floor insulation that has a thermal and/or acoustic function, which is the case with underfloor heating. Anhydrite flow screed is often used in larger construction projects or with a limited construction height of the floor in renovation projects, because it can be made thin. Find out here the most suitable floor structure for your project.
Underfloor heating: are you going for a wet system or a semi-dry system?
Underfloor heating systems with screed can be roughly divided into two types of systems: wet systems and semi-dry systems. With wet systems, the heating pipe is placed on the floor insulation and thus at the bottom of the cement screed. It is the obvious choice for new construction homes. With a semi-dry system, on the other hand, the pipes of the underfloor heating are placed on top of the insulation layer. Thanks to the low construction height, the semi-dry system is ideal for renovation projects, apartments and timber-frame construction. Underfloor heating with a semi-dry system costs slightly more than the wet system, but there are interesting advantages in return. For example, a better upward heat release and even heat distribution.
Average thickness of screed with a semi-dry system
How thick should your screed be if you opt for underfloor heating with a semi-dry system? With underfloor heating with a semi-dry system, the heating pipes are located in the insulation layer. The insulation consists of preformed insulation boards of polystyrene foam or polystyrene. A thin finishing screed is placed on the insulation layer with integrated underfloor heating. If you go for traditional, cement-bound screed, your screed should be 6 cm thick. If you use anhydrite flow screed, the screed is best 4 cm thick.
Average screed thickness with a wet system
What is the recommended screed thickness if you go for underfloor heating with a wet system? With underfloor heating with a wet system, the heating pipes lie on the insulation layer. In this case, the screed is a final layer in which pipes are concealed. The heating pipes are therefore located in the screed itself. We speak of a wet system because the screed is poured wet over the pipes and the pipes are completely surrounded by screed. To obtain good heat distribution, you must provide at least 4.5 cm extra screed space on the underfloor heating pipes. This brings the total thickness of the screed to 7.5 to 8 cm.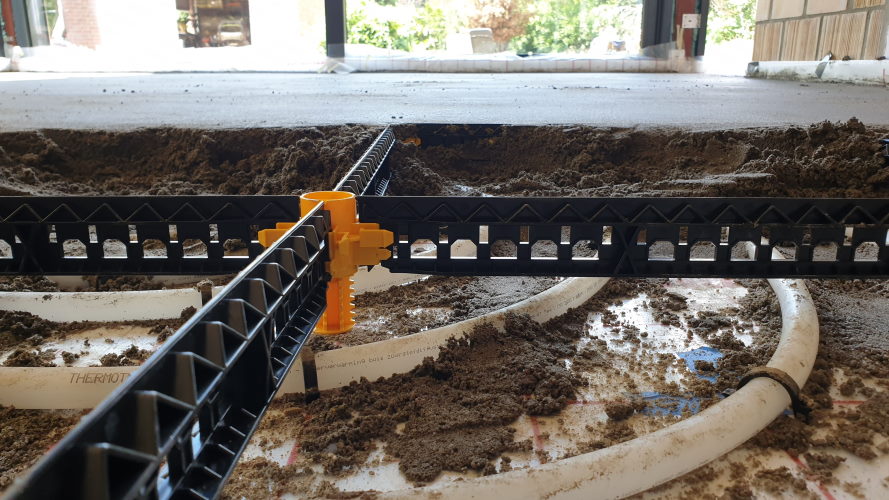 How thick is a floor construction with underfloor heating?
If you install underfloor heating, your floor structure will therefore be thicker than normal. Exactly how much thicker depends on the type of system. If you go for underfloor heating with a semi-dry system, the thickness varies between 8.5 and 14 cm without additional insulation. A semi-dry system is therefore ideal for locations with a limited construction height (e.g. apartments, renovations, etc.). With the wet system, the construction height is thicker and you need a minimum height of 12 cm, of which 4.5 cm for sprayed PU or insulating screed. The wet system is therefore interesting when there is sufficient construction height, for example in new construction.
DIY-er? Lay your screed yourself
Don't feel like waiting a long time for your screeder? Why not install your floor construction yourself? You can do this quickly and easily with the 'screed grid' from Staenis. As a DIY-er,s you can achieve a professional result without much effort. How does the screed grid work? You place one row of plastic grids, set them to the correct height, fill them with screed and pull the screed flat on the top of the grid. The grid stays in place all this time and ensures a flat and crack-free screed. Because the grid is divided into sections of 0.25 m², the internal stresses are reduced enormously, so that you can exclude the cost of an uncoupling mat. This way you save money and time. And yes, the system can be perfectly combined with wet and semi-dry underfloor heating. Curious? Watch the introductory video and discover here how to lay your floor construction yourself .
Are you going to install your floor structure yourself using the Staenis grid? Then it is best to use a screed thickness of at least 7.5 to 8 cm with a classic sand-cement screed with underfloor heating. You can easily order your Staenis grid, the necessary fillers and the installation tools online via the webshop. Want to see the system with your own eyes before you decide? Visit a Sack DIY showroom.
Buy underfloor heating pipes from Henco!