Is a reinforcement mesh needed in screed
by Staenis | 27/05/2021
Is a reinforcement mesh necessary in screed?
A screed or screed is a must-have for a solid floor. To prevent cracks in the screed, the screed is often reinforced with net reinforcement (also called a screed) or fibres. In which cases is a screed or fibres used in screed used? And, also, is it a good idea, or is there a better way to reinforce a screed?
Why is a reinforcement mesh used in screed?
Anyone wishing to install a floor must also provide a screed or floating floor as an intermediate floor. This intermediate layer is placed on the supporting floor and serves as a smooth and even surface for the floor finish. Reinforcement is often placed in the screed to reinforce the screed and prevent cracks. Thanks to the reinforcement, there is less risk of shrinkage cracks and the screed can be loaded more heavily, provided expansion joints are inserted. The traditional way of reinforcing screed is to place a reinforcement mesh (also called screed) in the middle of the screed layer. As with reinforced concrete, the reinforcement mesh provides extra strength. Find out here how to create a sturdy screed yourself, without having to use a screed mesh.
What are the disadvantages of a traditional screed with a screed mesh?
A standard reinforcement mesh is designed to reinforce a screed without an insulating layer. Now that we increasingly use thick insulation layers, this reinforcement causes all kinds of damage (cracks, loosening joints, subsidence, etc.). There is a better way. With the handy Staenis grid you can easily place your sturdy screed yourself, with the grid serving as up-to-date reinforcement. In this way, a reinforcement mesh becomes superfluous, which means a saving of 3 euros per square metre. But there's more. A traditional screed with reinforcement mesh or fibres soon rises up to 5 mm flat in the corners, while a screed with Staenis grid remains nicely flat. Thick insulation layers and larger tile sizes are also no longer a problem. Discover all the technical advantages of the Staenis grid.

Is fibre reinforcement as an alternative to a screed mesh a good idea?
Can you also reinforce your screed with fibre reinforcement, instead of using a screed? True, but then you have to opt for fibre reinforcement with additives. With fibre reinforcement with additives, you may omit the screed, because the technical properties of the screed are adjusted. This makes your screed even harder and increases its bearing capacity. Ordinary fibre reinforcement, on the other hand, only reduces the risk of tears and cracks for the first 28 days. After that, ordinary fibre reinforcement is no longer useful, not even as reinforcement. With ordinary fibre reinforcement you still need a reinforcement mesh. Please note: fibre reinforcement with additives is only supplied and installed by professional screeders. This is usually for public areas where the loads are very high, or when a thin screed of around 4 cm is sufficient.
Both a reinforcement mesh and fibre reinforcement with additives absorb thermal stresses from underfloor heating and sunlight. Why would you choose to lay your screed with the Staenis grid? Simple, the Staenis grid divides the tensions into small fields of 0.25 m2. As a result, there are always too few stresses to create cracks and tears in the floor finish. A crack and tear-free screed guaranteed! But it doesn't stop there. With a reinforcement mesh and fibre reinforcement with additives, you must always take expansion joints into account. However, if you use the Staenis grid, there are contraction joints every 50 cm that together absorb much more shrinkage than traditional expansion joints, which are placed every 6 to 8 m. Discover your ideal floor structure and lay your screed with the Staenis grid.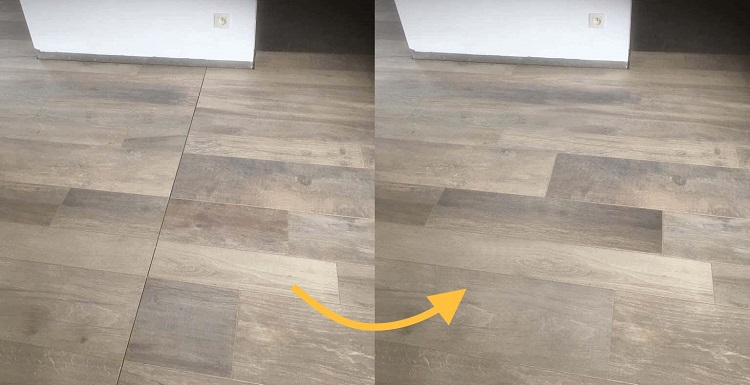 In which cases is reinforcement placed in screed?
Reinforcement is not necessary with an adhesive screed, or when a floor covering such as clinkers is placed on your screed/stabilised sand. In all other cases (non-adhesive screed, floating screed or a terrace that is being tiled), you must provide reinforcement to protect the floor finish against shrinkage and movement of the screed. Reinforcing screed can be done with screeds and/or fibres, but both options have their drawbacks. If you want to prevent damage to your floor, choose a handy DIY system to place your screed: the Staenis grid. Learn how it works.
How do you avoid the disadvantages of a screed mesh?
A traditional screed with screed meshes will eventually start bulging, resulting in all kinds of damage, such as cracks, subsidence and loose joints and tiles.
Cracks and loose joints appear due to large shrinkage stresses of the screed in combination with the heating and cooling of the floor structure due to weather conditions and the underfloor heating.

If you do not provide expansion joints with a normal reinforced screed, the screed will separate.

Deformation of a normally reinforced screed causes a pit to appear in the insulation layer. The screed will bulge. This is called the tray formation of the cover feed.
By laying your screed yourself with the Staenis grid, you prevent these common floor problems. The Staenis grid divides the screed in such a way that the tensions are spread significantly. The plastic screed grid is built up over the entire floor and remains in the floor. It serves as a reinforcement mesh, levelling system and is an alternative to an uncoupling mesh. You can place various floor finishes on the screed layer with the Staenis grid, such as ceramic tiles, natural stone, parquet or a floating floor covering such as laminate. Use the floor construction tool and discover the ideal floor construction for your project. You will immediately learn how to place it yourself.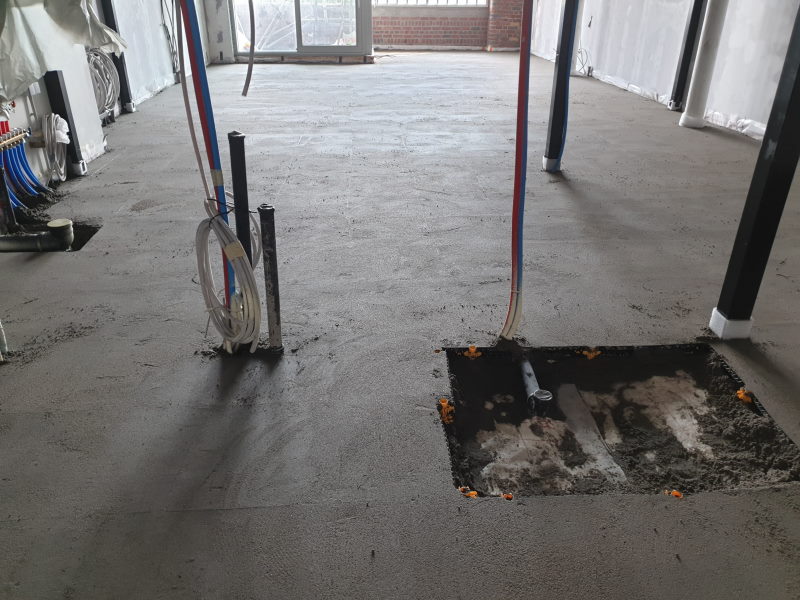 Why provide edge insulation and expansion joints?
Anyone who lays screed must always provide edge strips along the walls. The edge insulation allows the screed to expand and contract without cracking occurring. In this way, thermal bridges and sound bridges between floor and wall are also avoided. Even if you lay your screed with the Staenis grid, you must provide edge insulation. Thanks to the Staenis grid, shrinkage can be accommodated per wheelbarrow. Once this is done, after about 28 days of drying, the edge insulation ensures that during the heating and cooling of the floor finish and screed, your screed can still move, and is not tense between the walls. The fields of the screed can expand and contract separately when the edge insulation is pushed in.
How do you obtain a strong screed? Steel reinforcement meshes are usually used in a screed for strength. But if you lay your screed with the Staenis system, a screed is not necessary. The grid ensures a tension-free surface and a lifelong beautiful and damage-free result. Learn more about your ideal floor structure and easily order your materials online via the webshop.