Load-bearing dry fillers floor construction
+12.5 cm - first floor, ground floor, cellar, etc. - with concrete slab as substrate - multilayered parquet, laminate, cork, carpet and vinyl

Why the Staenis grid
This light floor construction with load-bearing fillers, such as levelling granules/cellular concrete, is ideal for levelling a room dry. By using the Staenis grid, expensive gypsum fibre floor sheets are saved, resulting in a much easier installation. It is also possible to work with cellular concrete instead of the expensive levelling granules. The floor structure is removable and can be reused without waste.
Benefits
Achieving a perfect end result without any experience
Can be covered directly with double staggered wooden Durelis or OSB panels
Can be covered immediately afterwards with many types of floor finish
Lightweight, fire-resistant and sound-absorbing floor construction
Very fast, light and dry installation
Possibility to insulate your low floor construction over the full thickness.
Spread floor works over several days (no stress during installation)
Circular floor construction through dry ecological & sustainable fillers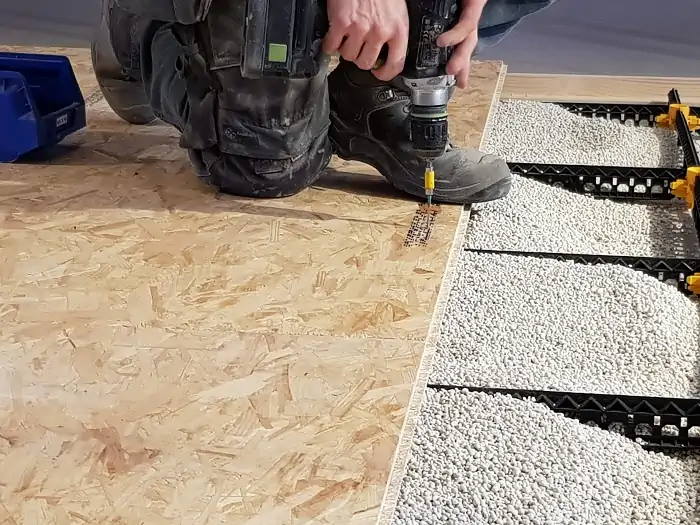 Floor construction manual
Place the Staenis grid and adjust it to the correct height with a screwdriver. Use sawn wooden blocks under the Staenis legs to adjust higher.
Stick all feet to the surface with PU foam, so that the height adjustment remains correct after adjustment.
Pour the load-bearing levelling granules or aerated concrete into the grating and level it with a screed iron on the top of the Staenis grating.
Place on this at least an OSB of 22 mm thickness. Screw the wooden plate into the battens of the Staenis grid. If necessary, apply double plating for extra strength.
With a single plating on the load-bearing fillers, the 22mm OSB will still spring slightly. With a double plating (12mm + 18mm) the deflection is completely gone. (1 ton/m² compressive strength)
Tip: Depending on the type of floor finish, you choose the thickness of the OSB. A thin floor finish needs a thicker OSB, a thick floor finish can be combined with the minimum OSB thickness for this floor construction.
Side view floor construction
View this floor construction in reality via Sack Zelfbouw
Legend
concrete slab
Pipes (heating, electricity, drainage, etc.)
Wooden blocks 9 x 9 cm
Stainless steel grid (thickness from 4.5 to 9 cm)
Aerated concrete
Double staggered OSB board
Subfloor / felt
Floating floor covering, etc.
Plinth

Placement video
Placement of the Staenis grid
Load-bearing dry filler placement
We deliver aerated concrete leveling granules in bags to your home (only in Belgium and the Netherlands)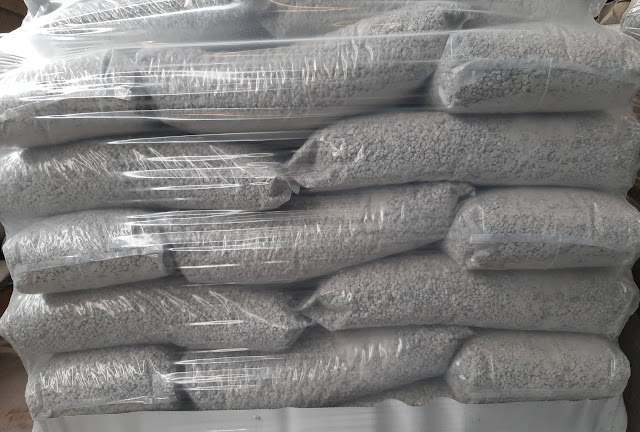 Aerated concrete leveling granules are a cheaper alternative than the standard leveling granules from Fermacell, for example.
Aerated concrete leveling granules can only be installed in combination with the Staenis grid, with an OSB plate or Fermacell floor plate above it.
The aerated concrete leveling granules in bags are easy to transport and make it possible to level your floor dry yourself.