Screed floor construction 2
+9.5 cm - ground floor, cellar, etc. - with concrete slab, insulating screed as substrate - tiles, multilayered parquet, laminate, cork, carpet, vinyl and cast floor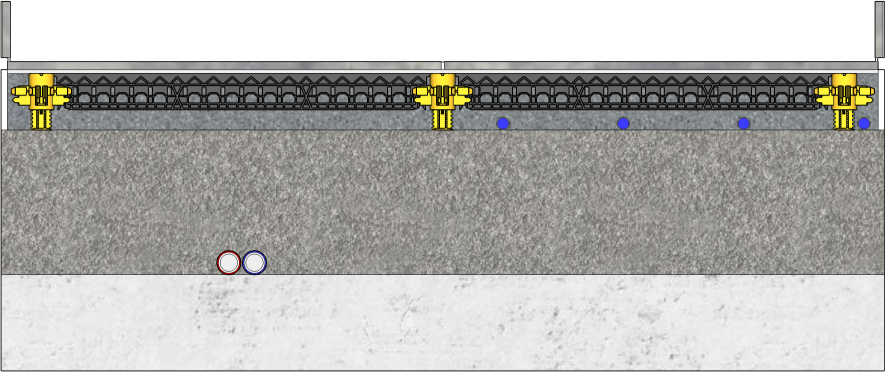 Why the Staenis grid?
Tensions in the substrate are the biggest cause of damage to the tile work. With the Staenis grid, the screed is completely tension-free, so that the tiles and grouting remain in top condition.
Benefits
Achieving a perfect end result without any experience
Compartment of the screed = crack-free screed
Replaces an uncoupling mat = savings of an average of 30 euros/m²
Replaces the steel reinforcement net = savings of an average of 3 euros/m²
No expansion joints needed in the screed = savings of an average of 3 euros/LM
Spread screed work over several days (no stress during installation)
Much faster start-up of underfloor heating possible = faster construction process
No 'dishing/cupping' of the screed = perfectly flat screed
Floor construction manual
Pour the insulation screed and make sure that the insulation screed layer is flat (max. 2 cm difference in height), so that installation with the Staenis grid is possible. Then cover it with a plastic layer.
Place the Staenis grid and adjust it to the correct height with a screwdriver. As standard, screed is poured 8 cm high/thick.
Fill in the Staenis grid properly with screed and flatten it on the top of the Staenis grid. Sprinkle some screed on the surface and polish with a large sanding board. This ensures that the remaining holes are filled and a good bonding strength to the tile is guaranteed. Always place an expansion strip or edge insulation along the walls.
Side view floor construction
View this floor construction in reality via Sack Zelfbouw
Legend
Concrete
Pipes (heating, electricity, drainage, etc.)
Insulation screed filling layer
PE foil
Edge insulation 8 mm thickness
Stainless steel grid (thickness from 4.5 to 9 cm)
screed with 250 kg/m³ cement (incl. foil)
Double bonding with S1 Flex Tile Adhesive
Tile, multilayer parquet, floating floor covering,...
Water-resistant, coloured joint mortar
Plinth
flexible silicone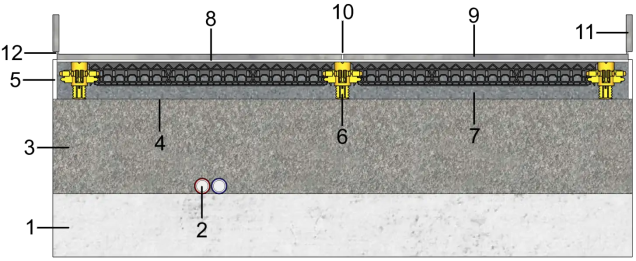 Placement video
Placement of the Staenis grid
Placing screed with height difference