How to lay screed yourself
by Staenis | 02/05/2021
How to lay screed yourself
Would you like to install your floor yourself? Then it is important to have a good foundation. Your screed must lie perfectly flat in order to place your floor finish correctly. Nowadays you can easily lay screed yourself, even if you have no experience. Discover how to get started and get acquainted with a handy DIY system.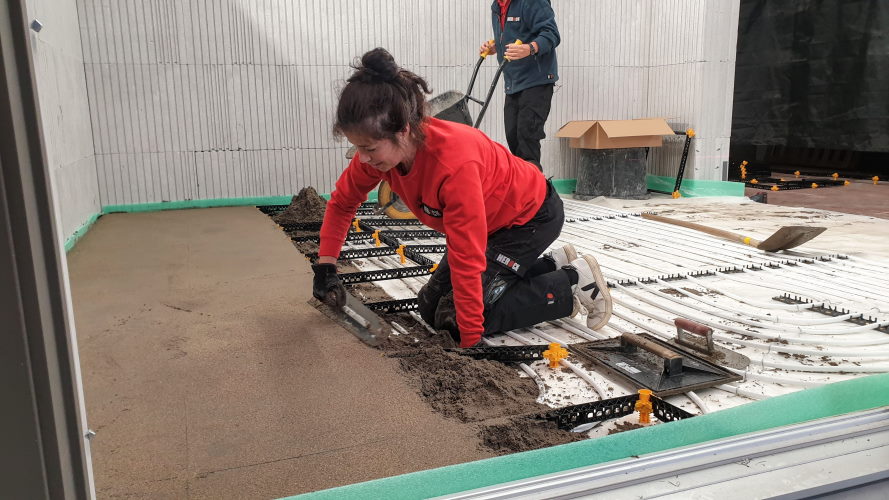 Before you start: check which type of screed you need
Before you can start laying your screed, you need the right screed for your job. Traditional screed usually consists of sand, cement and water. But beware, other combinations are possible. For example, in addition to traditional screed (or cement-based screed), there is also screed based on gypsum (anhydrite flow screed) and filling screed with an insulating effect (insulation screed). The best screed to use depends on how your floor is constructed and on the requirements that the screed must meet. Find the most suitable floor structure for your new floor.
Make your own screed, buy ready-made or have it delivered
Do you know which screed you need? If so, you can make your screed yourself, purchase it or have it delivered. Making your own screed is feasible if you only need a smaller amount. If you want to make it easy on yourself, you can buy ready-made screed in bags from a building trade or DIY store. But if you have to screed a large area, it is best to have a screed silo with prepared screed delivered to your property. With a screed silo, you decide when you carry out the work. Because fresh screed is always made by the wheelbarrow, there are no leftovers and you are not under time pressure. After all, traditional screed has a fairly short processing time of about three hours. Read more about purchasing and having screed delivered and Learn how to make your own screed in this article .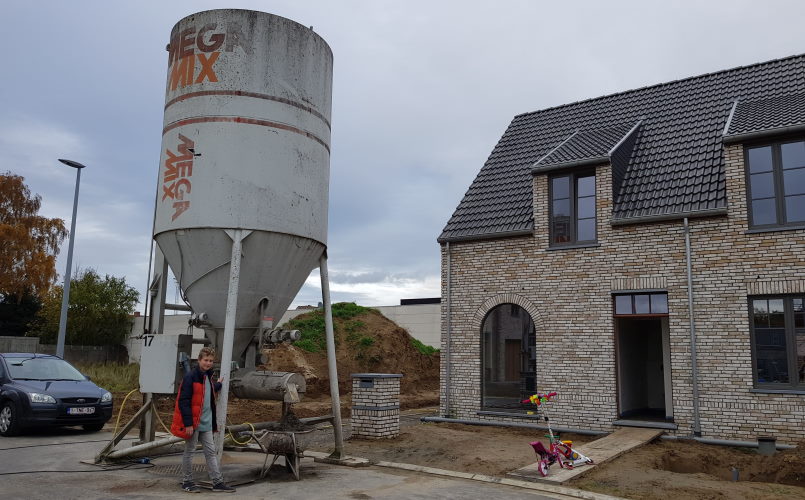 Laying the screed yourself in the traditional way: risk of damage
With your screed ready to go, you can install your screed yourself. You can lay your own screed in the traditional way, just like a professional screeder does. This is how it works: you prepare the substrate, prepare your screed and pour it over the floor. Then spread the screed with two battens and let your screed dry out and harden. But if you do not have the necessary knowledge and experience, there is little chance that you will achieve such a good result. Laying the screed is specialist work and the screed must be perfectly even and completely level. If you do not lay your screed properly, your screed may eventually crack, collapse and come loose from the floor. Read more about the risks here. But laying screed can also be a success!
Laying screed with the Staenis grid = avoid damage
There is an easy way to quickly and easily lay your screed yourself, without risk of damage. The Staenis grid consists of battens and height-adjustable legs, which you can easily click together and adjust in height with a screwdriver. The screed grid divides the floor structure into small fields of 0.25 m². Because of this there is no risk of cracking, collapsing and coming loose from the floor. Impressive: a traditional screed with reinforcing mesh or fibres can become uneven in the corners by up to 5 mm over time. But with the Staenis screed grid, your screed remains nice and flat. Will it be possible for your project? Of course! A screed with Staenis grid, possibly with underfloor heating, can be placed on a concrete slab, a concrete slab with insulating screed, a concrete slab with sprayed PUR, and so on. Discover all the advantages of the Staenis DIY system and get tailor-made advice for your project.

Easy to lay your screed yourself, even without experience
Laying screed yourself is a lot easier with the Staenis grid. During damming and levelling, you can easily follow the height reference points of the grid, so that your screed will lie nicely flat. Once the Staenis grid has been set correctly, you do not have to take the height into account when pouring the screed. This way you can fully focus on laying, compacting and polishing the screed. The wheelbarrow structure divides the screed tensions, so that you always get a top-quality end result. And you also don't have to screed a large area in one go. If the screed work is not finished in one day, you can continue screeding whenever it suits you. Choose your floor structure here and view a tailor-made manual for laying screed.
How to lay your screed with the screed grid
How to lay your own screed using the Staenis grid. First you measure the space. Then choose the suitable floor construction for your project with the handy floor construction tool. You'll immediately see which filler(s) you need: screed, insulation screed, dry fillers or drainage mortar. With the quantity calculator you can quickly calculate online how many fillers you need, but also how many Staenis battens, legs and possibly extension legs. You then buy your Staenis grid, fillers and placement tools online via the webshop. Then it's time for the real work! You can easily level up the legs of the Staenis grid. Then you fill the grid with the filler. While damming and levelling your screed, follow the height reference points of the Staenis grid. In a nutshell: Place, fill, level, done!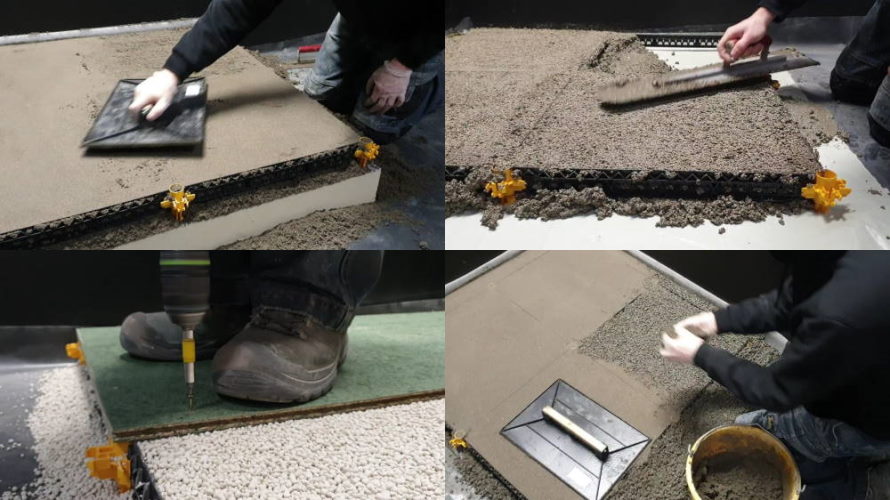 Laying the screed yourself with the Staenis grid = saving
By laying your screed yourself with the Staenis grid, you are guaranteed to obtain a professional result, and you can also make considerable savings. You save enormously, especially on small surfaces, because you will not be charged a fixed price by a screeder. With large surfaces you also save on a decoupling mat, a saving of 30 euros per m² on average. Furthermore, with the Staenis grid you do not need a steel reinforcement mesh to lay your screed. Also, when you work with the Staenis grid, there is automatically an expansion joint in your floor every half metre. This means that it is not necessary to place a real expansion joint in the screed and in the tiles. Find out here how much you save by laying your screed yourself with the Staenis grid.
Laying screed yourself is now easier than ever thanks to the handy Staenis grid. Find your ideal floor construction here and immediately view a clear step-by-step plan for your job. You can order your Staenis grid, the necessary fillers and the installation tools online via this webshop.